Wyoming Radio and TV Station Photos from the John in Arizona Collection
John has been taking photos of towers and radio stations since 1957. John and his wife Nancy continue to travel around the country to this day taking station and tower photos. Many of the older photos in this collection are of historical nature now due to call letter changes or station and tower relocations.
The Wyoming radio and TV stations photos in the John in Arizona collection are listed in alphabetical order by call letters.
KASL:
KASL Radio 1240 Newcastle came on the air in 1953. In 1973 their studios were downtown on West Main in the Masonic Building.
KBBS:
KBBS Radio 1450 Buffalo came on the air in the late 1950s. Their transmitter and tower are located south of Buffalo on Stockyard Road along I-25.
KCWY TV:
KCWY TV Casper started out on Channel 14. Now they are on Channel 13. In 1980 their studios were in downtown Casper as seen in the photo.
KEVA:
Radio 1240 Evanston came on the air in 1953 at KLUK. The call letters were changed to KEVA in 1964. This is how the studios, and tower looked like in 1970. Two years later they moved into a mobile home seen in the photo from 1973. KEVA is now located on Airport Road with a new bulding and tower.
KJWY-TV:
KJWY TV Channel 2 Jackson has studios at 970 West Broadway. Perhaps the staff does their laundry downstairs. KJWY TV is the lowest powered full service television station in the United States running only 178 watts. While this station is a satellite of KPVI-TV Channel 6 Pocatello, Idaho, they air newscasts from co-owned KCWY-TV Casper, Wyoming.
KMMZ:
Greybull 1140 in 1980 was KMMZ with studios and tower on Highway 20 at Highway 16 Greybull and Basin. They are now KZMQ. While the transmitter and tower remain at this site, studios are in Cody. The KMMZ call letters are now 0n 101.3 in Midland, Texas.
KMTN:
Chaparral Broadcasting Corportation of Jackson has studios at the corner of Highways 22 and 89 for their stations including KSGT 1340, KZJH FM 95.3, KJAX FM 93.3, and KMTN FM 96.9.
KOJO:
1490 Laramie started out in 1927. Call letters were changed a few times, KBBZ to KLME, to KOJO. Studios for KOJO in 1971 were downtown. In 1972 they moved to a new building. Note they moved the sign from downtown to this building. On July 10, 1975 at 6:30 am DJ Wayne Deahl and news man Al Harris were in the new building when there was a natural gas explosion. There was a four inch gas line under the parking lot and eventually the natural gas came up through the slab floor. In 1976 KUGR Green River came on the air, also on 1490, later KOJO moved to 1210 to increase power.
KOVE:
KOVE Radio 1330 Lander has been on the air since 1950. Studios for KOVE and their FM, KDLY, are located at 1530 Main Street as seen in this photo by Bill Block taken in 2014. Photo used with permission from Bill Block.
KOWB:
KOWB Laramie came on the air in 1948 on 1340, moved to 1280, and then 1290. The photo shows the KOWB studios and three tower array located at 3525 Soldier Springs Road as seen in 1972. KOWB, the King Of Wyoming Broadcasting, had been owned by famed sports broadcaster Curt Gowdy from 1966 until 1992. Curt was born in Green River, Wyoming in 1919 and died in 2006.
KROE:
KROE Radio 930 Sheridan came on the air March 18, 1961 as the second radio station in Sheridan. KROE ran a series of ads promoting their new station. You will find some of those ads on this page. The first studios were located at 47 South Scott Street. When KWYO 1410 moved from their 21 North Main Street location a couple of years later, KROE moved into those studios. The first KROE photo is of that Main Street location entrance as it looked in 1963. The sign was moved from the Scott and Works location. A few years later they hand painted the CBS letters on the sign as seen in the photo from 1971. That sign got moved again to the trailer house studios next to their tower on the old road to the dump. That road was later renamed Kroe Lane. The photos of the trailer and tower are from 1974. The last photo from 1971 shows the tower which is still in use today. The station has since built a different building. The call letters, KROE, are pronounced "crow" and the first slogan used by the station was "Something to KROE (crow) about" which explains the rooster on the sign.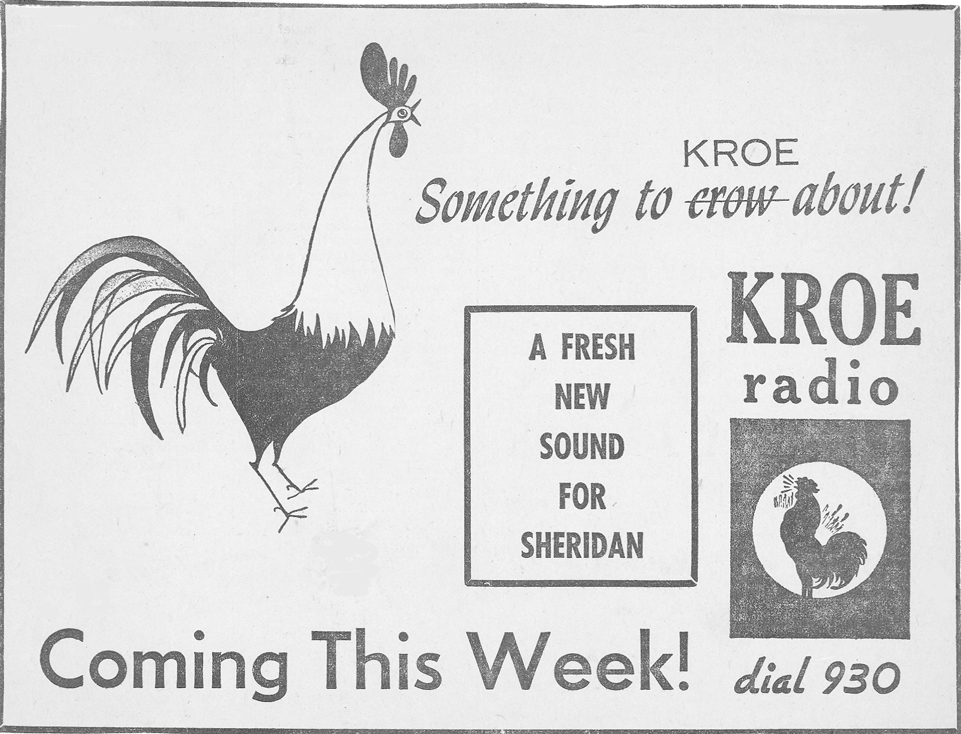 KROE Radio 930 Sheridan newspaper ad prior to coming on the air - 1961.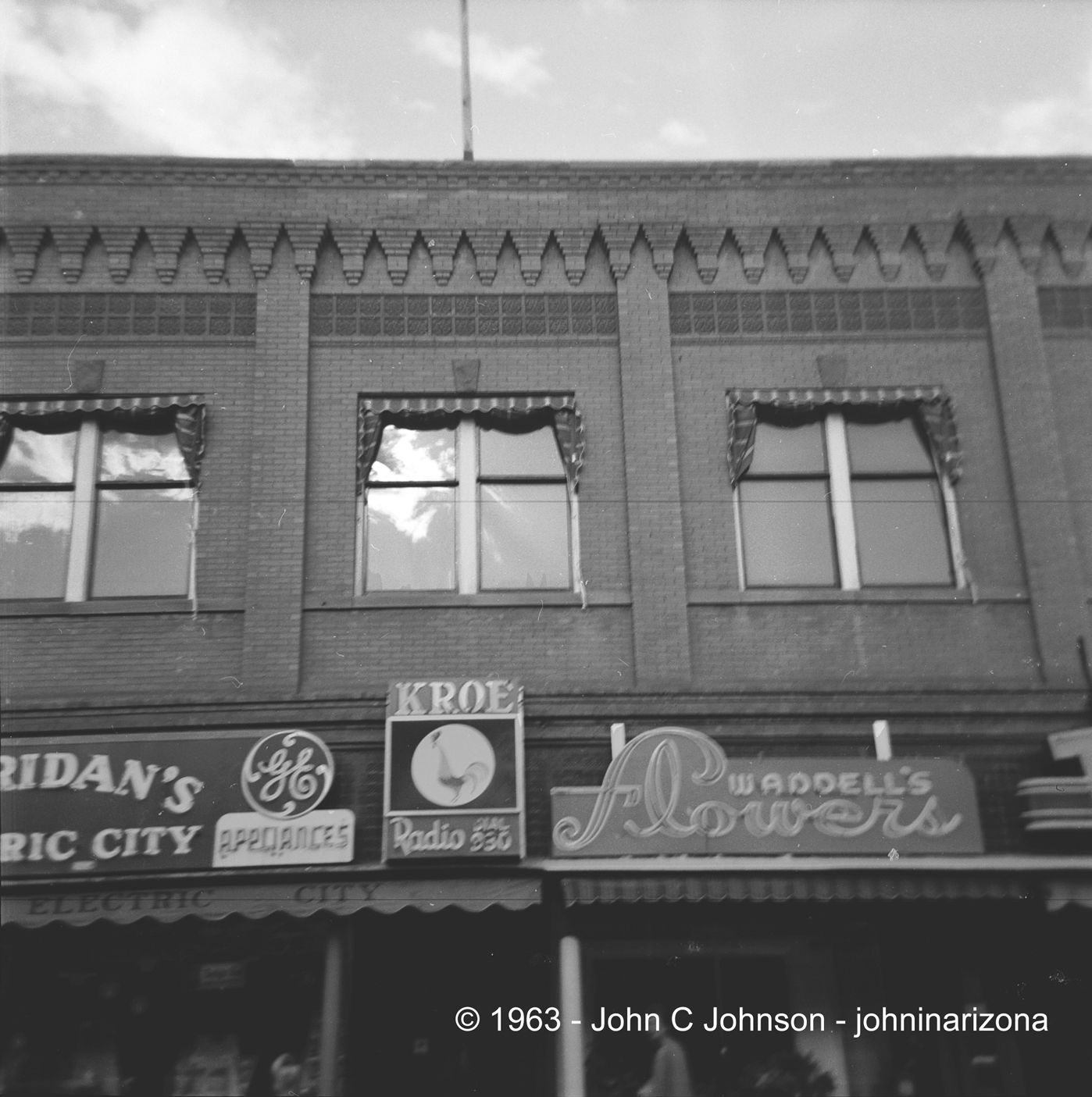 KROE Radio 930 Sheridan 21 North Main Street location - 1963.
KRTR:
KRTR Radio 1490 Thermopolis came on the air in 1955. The station was owned by Mildred and Joe Ernst. Studio location was at the corner of Broadway Street and North 5th Street and was still there in 1980 when this photo was taken. Note the KWRB TV Channel 10 on the sign.This was in reference to the remote studios of KWRB TV Channel 10 Riverton (now KFNE TV). KRTR 1490 Thermopolis left the air and the FCC deleted the facility. The KRTR call letters are now on 650 Honolulu, Hawaii.
KSGT:
KSGT Radio 1340 Jackson came on the air in 1962. Studios are located with KMTN FM (see above). Their transmitter and tower are located on Martin Lane west of Highway 191.
KTWO:
KTWO TV Channel 2 Casper came on the air March 1, 1957 as Wyoming's 2nd TV station. Studios were at 143 North Durbin in downtown Casper. They moved to 4200 East Second Street in the early 1960's. This was quite a distance out of town at the time. Their tower was located at this site as seen in the station photo from 1971. In the years since, Casper has grown and extends quite a distance past this location, including a large shopping area and mall location. KTWO TV moved again, this time to a not too impressive metal sided industrial building at 1896 Skyline Drive. No photo, but the KTWO letters from the brick entrance have been reused on the Skyline Drive location. KTWO Radio is now located at 150 Nichols Avenue. The billboard for KTWO Radio is from 1970. No, it's not a frozen planet in far outer space, that's just Wyoming.

Click on audio cart to hear audio of a KTWO TV Channel 2 Casper, Wyoming 1965 sign off.
KVOW:
KVOW Radio 1450 Riverton has studios are located at 603 East Pershing Avenue as seen in this photo taken by Bill Block in 2014. Photo used with permission from Bill Block.
KVWO:
KVWO Radio 1370 Cheyenne came on the air in 1952. Call letters were changed KSHY and later to KJJL before the station went silent. In 1978 the KVWO call letters were used on 650 in Cheyenne. The KVWO tower and studio photo is from 1971. Note the call letters on the tower.
KWYO:
KWYO Radio Sheridan came on the air on July 9, 1934 on 1370 as Sheridan's first radio station. They moved to 1410 in 1941. For quite a few years studios were located at 21 North Main Street (after they moved, KROE moved into the old studios, see above.) They build a new building designed for state of the air radio broadcasting at 140 East Loucks in the early 1960s. The Loucks location was also the Clouds Peak Cable TV headend for a number of years. The cable operation remains in this building, now owned by Optimum. Some of the station photos are from 1963. The last KWYO photo is of the wonderful old tower located on Dana Hill which was used from when KWYO came on the air until they increased power to 5,000 watts and constructed a new tower next to Highway 14 (not pictured). Sadly, this old tower was then dismantled by N. A. Nelson Construction and sold for scrap in August of 1977. A housing section now fills this portion of Dana Hill.

Click on cart to hear an early 1960's KWYO air check from the above automation system.
Images are the property of John C.Johnson / johninarizona / johninarizona.com and may not be used in any form elsewhere.
Sponsored Link: